Report on the Webinar 'Parasitic Weeds: know the enemy to combat it'
---
Posted on July 8th, 2021 on 15:18:53 by M. Vurro
---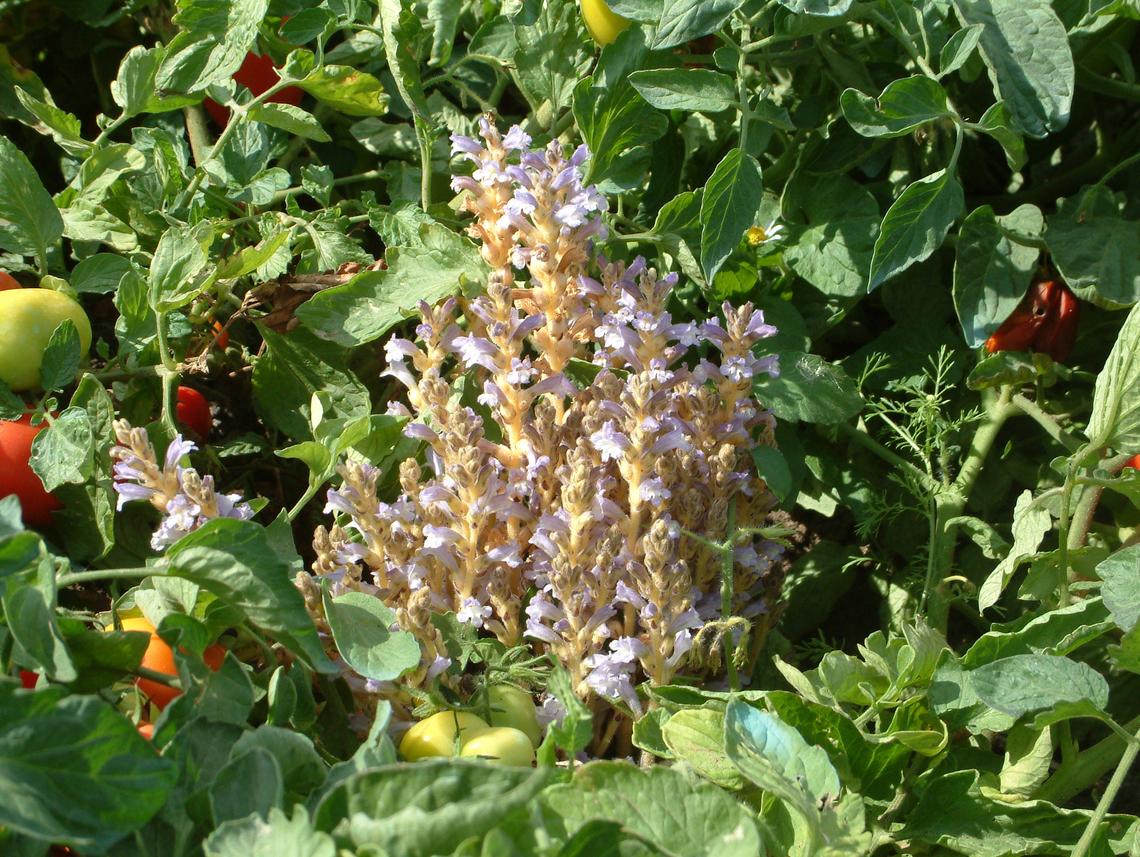 ---
The international Webinar 'Parasitic Weeds: know the enemy to combat it' was held on 29 June 2021 and reached 130 participants.
A very successful International Webinar entitled "Parasitic Weeds: know the enemy to combat it" was held on the 29th of June 2021. The main aim of the webinar, jointly organized by Maurizio Vurro (CNR-ISPA) and Alessandro Nicolia (CREA-OF - Research Centre for Vegetable and Ornamental Crops), with the support of the BIOTECH project (Mipaaf) and the sponsorship of the European Weed Research Society (EWRS - Working Group Parasitic Weeds), was to make a general overview of the research on parasitic weeds, a very serious and often underestimated problem in many countries all over the world, being responsible for serious qualitative and quantitative damages to numerous crops.
The webinar was opened by the welcome of the Organizers, and of the Institutional representatives, namely:
Dr. Jukka Salonen, President of the European Weed Research Society (EWRS)
Dr. Antonio Logrieco, Director of the Institute of Sciences of Food Production (ISPA), National Research Council (CNR)
Dr. Teodoro Cardi, Director of the Council for Agricultural Research and Economics, Research Centre for Vegetable and Ornamental Crops (CREA-OF)
Dr. Luigi Cattivelli, Director of CREA-GB (

G

enomics

&

B

ioinformatic

s)

e Coordinator Project BIOTECH
The morning session consisted in four lectures held by eminent and internationally renowned experts who covered various topics concerning parasitic plants, such as strigolactones, physiology, biology and management, interactions with the host, genetics improvement, and crop resistance, namely:
Prof. Koichi Yoneyama, emeritus professor of Utsunomiya University, Japan: 'Strigolactones as germination stimulants for root parasitic weeds'.
Prof. Harro Bowmeester, Chair of Plant Hormone Biology at the Swammerdam Institute for Life Sciences (SILS) of the University of Amsterdam, the Netherlands: 'The role of chemical communication in parasitic plant infection and its prevention'.
Prof. Julie Scholes, Emeritus Professor of Plant and Microbial Sciences, University of Sheffield, UK: 'Identification of resistance genes for smart breeding of durable defence against Striga hermonthica'.
Prof. Hanan Eizenberg, Director of Newe Ya'ar Research Center, Israel: 'The use of multi-spectral sensors and modeling approach for early broomrape detection and management'.
Each lecture (30 minutes) was followed by questions posed to the speakers from the audience.
In the afternoon of the same day, a second part of the webinar was held, with short reports (10 minutes each) presented by Italian scientists actively engaged in research on parasitic plants, showing ongoing studies and results achieved, followed by a debate with questions posed to the speakers by the listeners. The main purpose of this second event was to create a small national network to increase the knowledge and the possibilities of collaboration. Indeed, parasitic plants, in addition to being a fascinating and still partially unexplored field of research, represent a very serious and often underestimated problem for the Italian agriculture, as they are responsible for serious qualitative and quantitative damage to numerous crops, in particular vegetables and leguminous plants. The afternoon presentations were in Italian, with slides in English.
The presentations of the afternoon session were:
Maurizio Vurro: Biological control of parasitic weeds.
Cristina Prandi: Strigolactones: analogues, mimics and agricultural applications.
Simone Cantamessa: Novel synthetic strigolactones influence seed germination of parasitic weeds and hyphal branching of Gigaspora rosea.
Antonio Evidente: Plant metabolites with new perspectives for parasitic plant management.
Alessandro Nicolia: Novel genetic approaches for the control of P. ramosa in tomato (Biotech-CISGET).
Livia Stavolone: Transcriptome Analysis of a Tropical Maize Inbred Line Reveals a Novel Mechanism of Tolerance to Striga hermonthica.
Stefano Pavan: Characterization of broomrape resistance in naturally occurring pea germplasm.
Filomena Carriero: A TILLING missense mutation as resource to improve Orobanche ramosa resistance in tomato crop.
Elia Mancini: Flowering of Phelipanche ramosa does not require florigen production from Arabidopsis.
Nunzio D'Agostino: Dissection of the TOMato-ORobanchaceae interplay: a step towards the development of Resistant Varieties through new plant breeding techniques (TOMORRoV).
The event was completely free
The organizers:
Maurizio Vurro Institute of Sciences of Food Production, CNR, Bari, Italy - maurizio.vurro@ispa.cnr.it
Alessandro Nicolia, Research Centre for Vegetable and Ornamental Crops, CREA, Pontecagnano (SA), Italy - alessandro.nicolia@crea.gov.it
---
The cover picture shows Phelipanche ramosa (L.) Pomel parasitising tomato. Picture by Angela Boari, CNR-ISPA, Bari, Italy.
---
45 x viewed | 2 Likes - Like
---
Filter by theme
Filter by Working Group
We would like to welcome you as a contributing author for the EWRS blog. Please contact the Communication Officer, Camilla Moonen. She can give you writing access to the blog. After that, you can start writing articles for the blog, from the 'My Account page'. More information can be found on the "How to use the Blog page".