The WG meeting 'Weed Vegetation and Biodiversity' in May 2023 - short report
---
Posted on August 4th, 2023 on 12:40:33 by Matthias Schumacher
---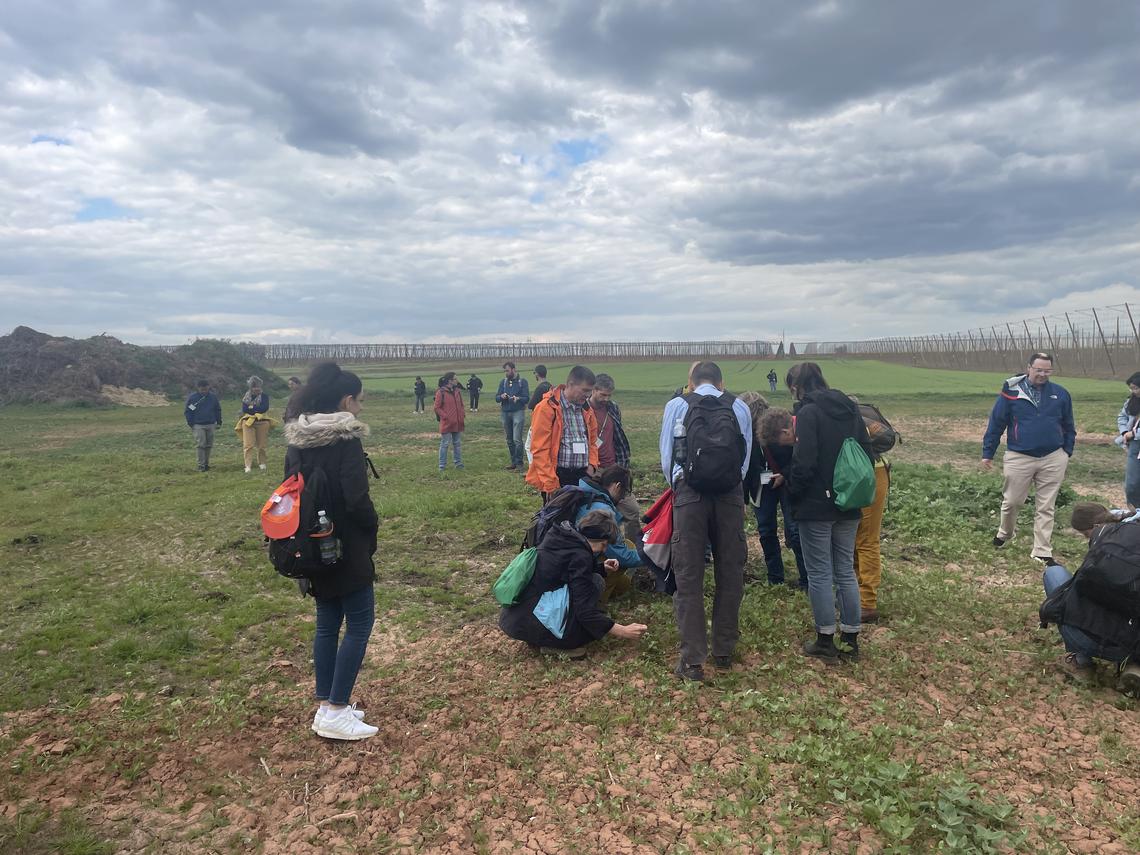 ---
Report on recent WG meeting from 10th to 12th May 2023 in Prague, Czech Republic
From 10th to 12th of May 2023, the Working Group "Weed Vegetation and Biodiversity" held its first workshop in Prague, Czech Republic. It was the first workshop after the two WGs "Weed Mapping" and "Weeds and Biodiversity" were merged in 2022. A total of 42 enthusiastic weed scientists, agronomists, vegetation scientists, ecologists, conservation researchers as well entomologists from 18 different countries participated in the workshop.
The workshop was opened with greetings from the dean of the faculty of agriculture of the Czech University of Life Sciences (CZU), Josef Soukup, and a short recap by Matthias Schumacher about the history of the two former working groups. Afterwards the keynote speaker Jukka Salonen, a long-term member of both working groups, gave the first talk about "weed surveys – a window to changes in agriculture". Sessions about weed community changes and biodiversity conservation, as well as weed surveys & mapping and accounting for weeds in management followed.
On Thursday, the day started with talks about different methods of weed surveying, species-area relationships and weed identification. At a very special session, we "changed perspective". The session started with a talk about utilizing citizen science for weed monitoring and a talk about the perception of weeds and ecosystem (dis)services by farmers, advisors, experimenters, and researchers. This was followed by an input and an interactive discussion on interacting with policy makers and contributing to policies. Although directly interacting with policy makers is very rare, shaping policy documents or giving advice in scientific boards is more likely. While WG members working in ministry associated research institutions had some experience, others only marginally interacted with policies. In the end of this session, we discussed on how to become (pro-)active in advertising weed vegetation and biodiversity in policies. In the afternoon we visited Lupofyt, a hop production farm in Chrášťany. After welcoming words by the owners, we visited the fields. The hop cultivation was very fascinating, unfortunately the farmer was very successful at weed control, so we found almost no weeds in the field. A dump on the farm came to the rescue for our working group and lifted our spirit.
We found Atriplex nitens, Myosurus minima and discussed over a small seedling which Amaranthus species we had in front of us. The workshop dinner with great Czech beer in a nice restaurant in the city center of Prague completed our day.
The last day of the workshop started slowly with the poster presentations before we continued with sessions on different aspects that shape weed communities at a larger and at a finer scale and weed seed predation. The day was closed with discussing new and old initiatives for collaboration and adjusting our common WG objectives.
Five early career scientists received travel subsidies from the EWRS and greatly appreciated this financial support:
"Attending the first Workshop of the newly formed EWRS working group "Weed Vegetation and Biodiversity" was a most fulfilling and inspiring experience. It was a perfect opportunity to present my work, receive many constructive comments in return, and gain new inspiring ideas for future research. Attending this workshop, I was delighted to discover a very friendly group of weed scientists, keen on establishing new connections and building a strong research community dedicated to the study of weed vegetation and biodiversity. It enabled me, as an early career researcher, to make new acquaintances and expand my network of professional contacts. Finally, I would like to express my gratitude to the organizers for this opportunity and my hopes that our group will continue to work well together for many years to come."
-Ana Andjelkovic (Serbia)
"Attending the EWRS workshop was a truly enriching experience for me. Coming from a viticulture university, it provided me with a valuable insight into weeds diversity, other than vineyard weed management. The opportunity to interact with other researchers and weed scientists provided a great platform for exchanging ideas and experiences. It was truly inspiring to realize that "we are not alone" in our passion and dedication to this field and that we have similar research questions, even if in cultures other than vines. I went back to Switzerland better equipped, with new perspectives for my upcoming PhD. Listening to other researchers' presentations and discussing with colleagues during breaks and dinners provided me with ideas on how to implement my research. Their passion and dedication gave me the motivation to keep pursuing this path."
-Fantasia Serena (Switzerland)
"As a young Portuguese researcher and PhD student, I had the gratification of participating in the WG Weed Vegetation and Biodiversity Workshop with an oral presentation ("Can road verges act as a natural refuge for weeds?quot;). Participation in this workshop was possible due to the travel grant awarded by the Working Group Weed Vegetation and Biodiversity, allowing contact with other cultures and research perspectives. This experience allowed me to acquire new knowledge about the functioning of agroecosystems and broaden my perspectives on the management of weed vegetation. The workshop also allowed the exposure and integration of different points of view on weed management, the creation of contacts between researchers and the sharing of personal and professional experiences. Therefore, this experience has enriched me both personally and professionally."
-Mariana P. Fernandes (Portugal)
I would like to thank the local organizers and helpers that hosted us in Prague at the CZU: Hana Vaskova, Pavel Saska, Theresa Piskackova, Josef Holec and Josef Soukup. Furthermore, I am grateful to the two former WG coordinators, Bärbel Gerowitt and Hans-Jörg Krähmer, that helped and advised us in the process of merging the two WGs and setting up the first workshop. The biggest thank you I sent to my WG deputy, Michaela Kolarova, who is also a local organizer and took care of everything from brewing coffee to handling finances and designing the program with me. Thank you, Michaela!
---
212 x viewed | 3 Likes - Like
---
Filter by theme
Filter by Working Group
We would like to welcome you as a contributing author for the EWRS blog. Please contact the Communication Officer, Camilla Moonen. She can give you writing access to the blog. After that, you can start writing articles for the blog, from the 'My Account page'. More information can be found on the "How to use the Blog page".